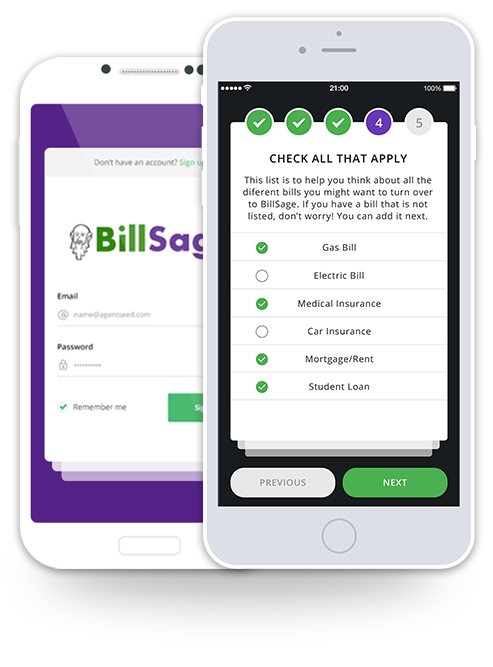 We are a company that believes in using technology to simplify lives. We believe that in this day and age there is little reason to spend your precious time on something that should be completely automated.
We strive to make your recurring bills as hands-off as possible. Our goal, once you are setup, is to stay in the background of your life. We will do what we do best, and contact you only if necessary.
How does BillSage work?
BillSage can take the hassle out of paying your bills using our state of the art automated bill pay system.  All bills, both mailed and emailed, are sent to us and processed by our system. We draft your account once after you get paid.  As your bills come in we pay them on your behalf. BillSage utilizes the latest cloud and AI based technologies to automatically manage paying your bills on time, every time.  It really is that simple.
No more worrying if you lost a bill.
No more wondering which bill payments have cleared your bank account.
No more late fees.
Live the easy life!
BillSage is the easiest automated bill pay system available today.
BillSage's automated bill pay system takes the hassle out of managing and paying your bills, while still giving you complete control and visibility to your finances.  We provide a revolutionary way to create a monthly budget and stay on track to get out of debt, or save for that dream vacation or new home.  We offer a 90 day money back guarantee.  If after 3 months you are unsatisfied with BillSage's service we will refund you the first 3 months of fees.
How does the 90-day money back guarantee work?
If within the first 90 days you feel that BillSage has not provided a worthy service, then contact our customer service department and cancel your service.  Please mention being refunded for the first 90 days of service fees.  We will refund you 100% of monthly service fees (up to a maximum of $150) after your service is cancelled.
BillSage does not require our customers to sign any contracts.  We do not charge any cancellation or termination fees.  You are free to cancel any time, for any reason.  Your remaining funds will be refunded after service with BillSage is terminated.
Does BillSage take ownership of my bills?
No.  All of the bills still remain in your name.  BillSage is only automating payment of those bills each month on your behalf.  You will still handle any billing disputes, changes to service, etc.  BillSage can provide documentation and copies of bills, payments, and related information regarding your bills.  BillSage is not an authorized contact for your bills.  Thus we cannot call, email, or otherwise directly contact any of your bill providers.  You are still responsible for, and fully retain ownership of those accounts.
Does BillSage charge other fees or have any other hidden costs?
No.  BillSage believes in honest and upfront pricing.  Our flat monthly service fee covers all of the ACH transactions, printing checks, etc. necessary to pay all the bills for a normal household.  We do not charge extra fees based on the number of bills, type of bills, or number of ACH transfers per month*.  There are no extra charges based on the total dollar amount paid each month*.  Transferring all of your bills to BillSage will give you the greatest benefit and peace of mind.
*NOTE: The number of total transactions and dollar amounts per month for the flat price are based on an above-average number of transactions a typical household would experience in a month.  There may be an additional fee for households that incur more than 50 total transactions per month on a recurring basis.  Please contact us if you have any questions or concerns about needing to consistently process high volumes of bills.
Can BillSage pay bills for my small business?
Yes. BillSage can handle automated bill payment for any individual, household, or small business. We handle bill payment for any entity with recurring bills. You are still charged the same flat rate, monthly price*. So get started today by downloading our mobile app, and completing the easy 5 step sign-up. After we contact you, please mention that your account is for a small business. If you still have any questions please contact us about creating an account for a small business.
*NOTE: Accounts that regularly have more than 50 total transactions per month, or that have above average payment amounts may be charged additional fees.
NOTE: BillSage is not a payroll processor. We do not offer employee payroll or employee tax accrual services. BillSage can be used for paying contractors. A qualified tax accountant should handle any accounting, reporting, and tax preparation for employees/contractors.
How long after sign-up till BillSage starts paying my bills?
After completing our easy 5 step sign-up process through the mobile app, you will receive a personalized budget plan. One of our customer service specialists will work directly with you to determine last payments you need to make and when BillSage will start paying each of your bills. Please keep paying your bills until instructed by BillSage that we are making future payments on your behalf. This process typically takes about a month to setup and transition your bills over to BillSage.
Does BillSage sell or share my information?
BillSage firmly believes in maintaining the privacy and security of our users. We do not sell, share, publish, or disseminate any of our users personal information to other companies to make revenue for referrals, sales, or marketing. We side with our users to protect their data, because of the sensitive nature of financial information. It is too great of a risk to share this information in any fashion. Furthermore, we seek to make money through honest and upfront pricing for our service. So we do not need to sell user's data or provide intrusive advertising to generate revenue. Your data is only used for processing and operations. That means we only give the minimal amount of information required to verified vendors in order to pay your bills. Rest assured that your financial and personal data is safe with us.
What does it cost to sign up?
The BillSage mobile application is free, and there is no cost, commitment, or obligation to sign-up from the mobile app. After you complete sign-up, you will receive a personalized budget plan. You will have a chance to review your budget plan before deciding to use BillSage. If you choose not to use BillSage, there is no cost or obligation for receiving your personalized budget plan.
Take the next step today, download our mobile app, and complete the easy 5 step sign-up process to receive your no cost, no obligation budget.
How do I sign up?
Getting started using BillSage is quick and easy.
First you need to download our mobile app, either from the Apple or Google Play Store.
Next, use our mobile application to submit your information to BillSage. This is a 5 step process, and takes most users about 15 to complete. This does require copies of all current bills you want BillSage to manage. So gather copies of all your bills before getting started. TIP: You can also take screenshots or photos of webpages with bill information if you only receive ebills.
Once you have completed the 5 step sign up process, one of our representatives will contact you within 2 business days with your personalized plan and next steps to get started with BillSage.